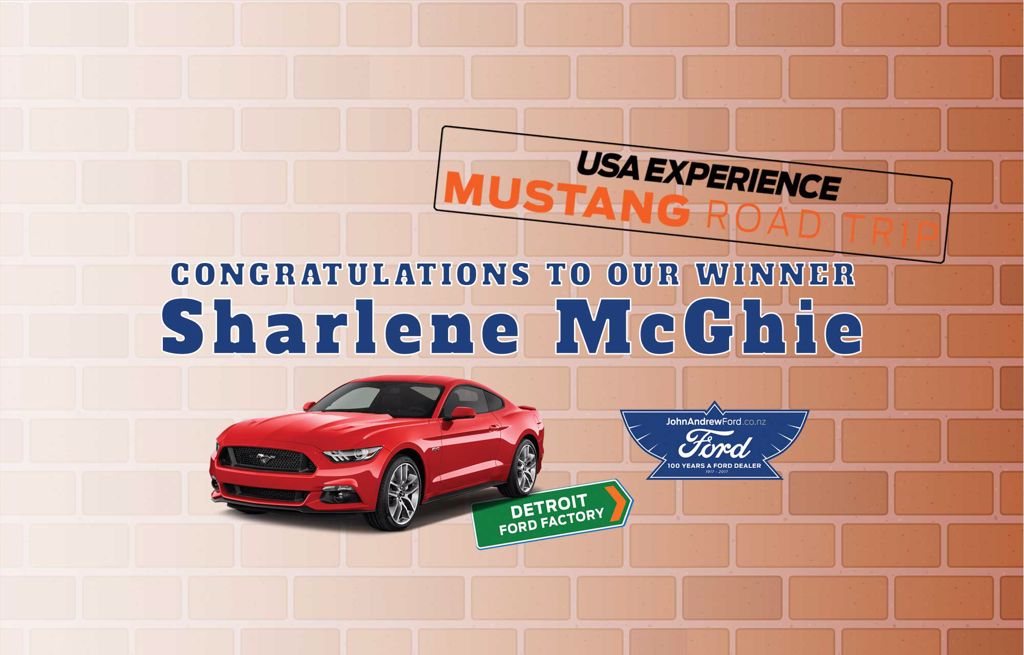 John Andrew Ford announces USA Mustang Road Trip Winner
The New Year has started off with a bang for Sharlene McGhie, the lucky winner of John Andrew Ford's USA Mustang Road Trip Competition.
In celebration of John Andrew Ford's 100 year anniversary in 2017, John Andrew Ford put this awesome trip for two to the USA up for grabs. The trip includes a 16 day Mustang road trip across America, a tour of the Ford factory in Detroit, and flights and accommodation throughout the journey.
Running across 10 months, from the 1st March 2017 - 31st December 2017, the Mustang Road Trip competition saw hundreds of entries – as everyone who purchased any New, Used or Small Fleet vehicle from John Andrew Ford was in to win!
Our lucky winner Sharlene bought a 2016 Holden Astra from the John Andrew Ford Used Vehicle Yard on the 12th August 2017. When we gave her the call to let her know the good news, Sharlene couldn't believe it, thinking we were pulling her leg. Sharlene and her partner are already looking forward to checking out the Ford Factory and making the most of the American roadtrip.
Full prize details are outlined below:
The Prize:
The prize is an 18 Day United States Mustang Road Trip for two people worth $14,500.00 NZ dollars. It includes the following:
Economy flights for two (2) adults from Auckland to Detroit and Los Angeles to Auckland;
Rental of a Ford Mustang for 16 days;
Accommodation at the following destinations:
Detroit (two nights)
Chicago (two nights)
St Louis (one night)
Springfield Missouri (one night)
Oklahoma City (two nights)
Texas (one night)
New Mexico (two nights)
Arizona (one night)
Grand Canyon Arizona (one night)
Las Vegas (three nights)
Santa Monica Beach, Los Angeles (two nights).
NZD$500 prezzie card
The following tour activities:
Tour of the Ford factory in Detroit
Two hour Detroit city tour
Five hour Inside Chicago and Pizza tour (pizza lunch included)
45 minute Grand Canyon helicopter tour
Day tour to Laughlin including two free show ticket to Divas.
News