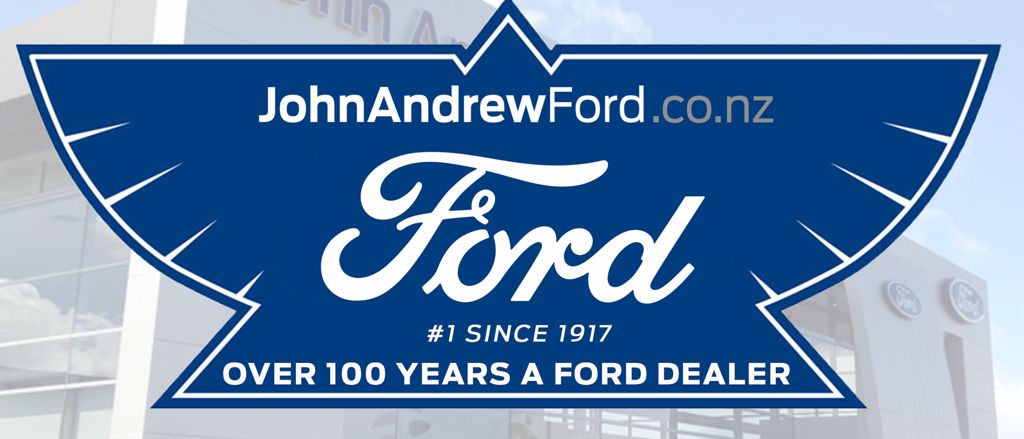 A Century of John Andrew Ford Motoring.
We have come a long way as a Ford dealer and are proud to say that we have been part of Auckland's transportation since 1907 and have been an official Ford dealers since 1917.
John Andrew Ford would not be here if it were not because of the support and dedication of our customers and employees. They are the real treasure behind John Andrew Ford's success. We welcome you to join us to reminisce in our history by submitting your stories through our contact us page.
Thank you for your support. John Andrew Ford, number one by customer choice, not by chance.
History
The story of John Andrew Ford , one of New Zealand's oldest automotive dealers begins in 1907 before Ford had even arrived in the country.
Below is an excerpt taken from The Andrew Calvacade.
A walk in time

John Andrew has been keeping the Ford tradition alive almost as long as the blue oval has been around. The Andrew family operated the whole of the horse bus transport in Auckland City, in addition to a grain, produce and chaff cutting business in the late 19th century.
The birth of the Ford Dealership could be said to have taken place in 1907 when John W. Andrew bought into the family business alongside his two brother-in-laws. The Auckland population at the time was approximately 40,000. The motor car had only made its appearance in Auckland in 1902, and John W. Andrew, an early adopter, had purchased a second-hand French make for £25. Five years later when the first model T arrived in New Zealand, John W. became one of the early Ford owners and obtained a sub-agency on a commission basis of £5. So started John Andrew Ford, which has grown and given great service to the Auckland region ever since.

In 1911 there was a temporary and partial deviation from Ford as John W. obtained the agency for the well known American Chase trucks. As an indication that business was slow in those days, he sold 36 in the following five years. It was then, in 1917 that John W. Andrew became a full Ford Dealer and as demand for Ford product grew, the John Andrew business began to simplify and in 1921, only the Ford franchise facet of the business remained.

As driving schools in the 1920s were practically unheard of, dealers had to teach their customers to drive in order to entice sales. Bucking the stereotypical trends of the time, John Andrew's daughter, Miss Mary Andrew, took the driving lessons; not only of the Ford vehicles, but also of the Fordson tractors when they made their appearance later in the century.

In 2000, the Ford brand was brought together into regionalised retail dealership locations. Trevor Walmsley. the Chief Executive of the Joint Venture, described his first prirority as reducing the duplication of facilities where they were no longer needed in order to ensure future growth for both brands. The Greenlane Sales and Service operations moved to our current John Andrew site in Grey Lynn in September 2000.

Over the years, the John Andrew Ford Dealerships and Service Centres have seen many homes, some of the most memorable being Khyber Pass, Symonds Street and the current flagship location, on the corner of Newton and Great North Roads.

The success of any commercial business depends on satisfied customers and satisfied customers come only from the confidence in the product they are buying and in the service they can expect from their dealer. John Andrew Ford is proud to continue the high quality standard of customer service set more than 100 years ago, and there is no doubt that the range of Blue Oval product is getting better and better as years go by.

You can now find John Andrew Ford at three convenient locations around Auckland; Sales and Service at 2 Great North Road in Grey Lynn, and service centres at 23 Greenpark Road in Penrose, and 32 Paramount Drive in Henderson.
EAGERS AUTOMOTIVE GROUP NZ
John Andrew Ford is one of the largest and oldest motor vehicle dealerships in New Zealand and in 2019 we were proud to become part Eagers Automotive NZ (ASX.APE).
Eagers Automotive is the leading automotive group in Australia and New Zealand, with a proud history of more than 100 years.
We are a pure automotive retail group representing a diversified portfolio of automotive brands across Australia and New Zealand. In Auckland alone, we operate nine Auckland dealerships, offering new vehicles from five leading brands.
Our business consists of the ownership and operation of motor vehicle dealerships, including the sale of new and used vehicles, service, parts and the facilitation of allied consumer finance.
Our strong relationships with brands and partners, mean that we have the choice, convenience, insights, and access to the vehicles you want. Plus, we've got every aspect of the vehicle ownership journey covered and all in one place.
For more information regarding Eagers Automotive NZ or any of its subsidiaries, please visit the website: https://www.eagersautomotive.co.nz/