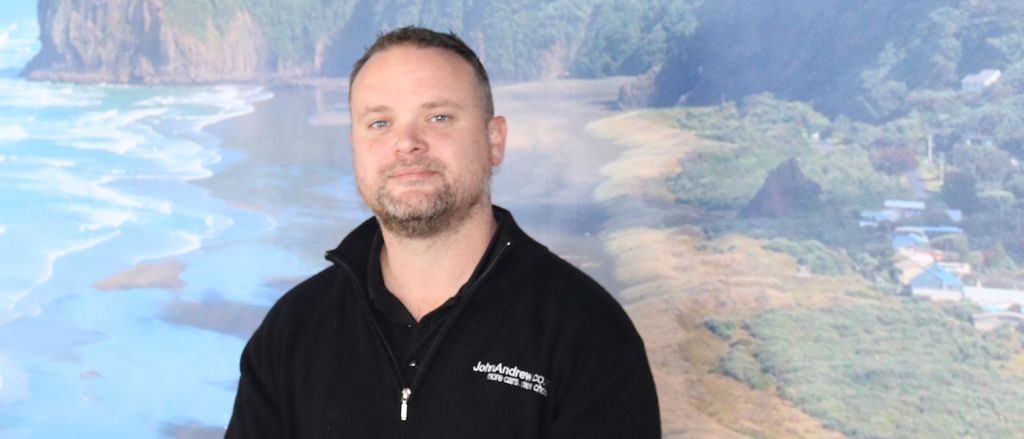 Our Stories - Jason Mcleod - Henderson Service Manager
Started from the bottom, now he's here. Henderson Service Manager Jason McLeod has been a fixture across various John Andrew Branches for the last 22 years. Starting out as an apprentice technician at Grey Lynn, Jason showed leadership qualities early, becoming a foreman while still an apprentice, then running the workshop at the Penrose Service Centre, before returning to Grey Lynn as a Service Advisor and finally taking on the Service Manager Role at the Henderson Service centre now recently overseeing the move to the new larger premises at 133 Central Park Drive.
Day to day Jason now leads, coaches and mentoring his team to deliver best practice and follow processes while maintaining an efficient and productive workshop that as a result is profitable. Jason loves having the ability to help customers get back on the road by going the extra mile to get customers to smile.
When asked what customer service means to him, Jason responded "Customer service to me, is about building a relationship with our customers, so they know they have a place to bring their vehicles to a team they can trust, sharing our knowledge and passion for our brands. Delivering what our customers expect and more and that when they leave, I know that they have had a great experience with my team."
There have been many highlights for Jason at John Andrew, with two standing out. Firstly, receiving his 20-year service award and secondly, winning a fishing trip for the whole West Auckland team. Commenting the fishing trip was a great day out for the whole team, something they don't get to do often.
When not at work, Jason is always kept busy, spending time with his wife and kids, doing DIY projects around the house and moonlights as a roadie for some of NZ's biggest bands. Jason loves working hard and seeing the results. A loyal NZ Warriors fan, Jason is the definition of loyalty.
Our Stories - Carol Gum - Customer Liaison Extraordinaire
The face of the business, this is a term that often gets thrown around carelessly, but in this case, it is the perfect description of John Andrew's customer liaison extraordinaire Carol Gum. She's also the voice of the business, answering all of your calls and greeting all visitors who come into John Andrew Ford. Carol is also celebrating 16 years at John Andrew this month!
A role that's developed a lot over the years from first day in April 2003. Apart from handling busy and at times challenging phone calls and customers, Carol works with others (including the management team) helping achieve day to day objectives and making their day run as smoothly as possible. From organising couriers and mail to ordering office and café supplies, to coordinating with suppliers and contractors. Carol also is involved with the health and safety culture of John Andrew, which is somewhat a passion of hers, currently working toward a diploma in the same field. Loving the challenge that every day brings, even though doing a lot of the same things each day, every day seems to turn out different.
When asked what customer service means, Carol added, "Working with and helping our customers to complete positive outcomes with their experience at John Andrew. Without our customers, we are nothing. It also means working with my colleagues to achieve the same goals, and to maintain John Andrew as #1, by choice, not by chance!"
Carols favourite part of the job? That's easy; the people! There is such a diverse bunch each with their own quirks and personalities, from all corners of the world, and Carol loves each and every one of them. And then, first equal would be working for the best dealership in the world, of course.
Outside of work, Carol loves her slice of paradise North of Auckland. Loving her home and the people she gets to share it with. Carol also enjoys a vast range of hobbies including gardening, craft, cooking (especially with the grandchildren), and her animals. While not a big sports fan, you might catch Carol watching the AB's (especially if they are on form).
Asked to choose a favourite movement of her illustrious career at John Andrew. Carol Responds, "There are a lot of grand memories but one that stands out for me was achieving and receiving (a surprise for me, I am usually the one that organises this sort of thing!) the DP's award for Driving Greatness handed out by Phil Saunders (Dealer Principal) in August 2019. This has pride place in my home, and my heart, and I am humbled and touched it. It means more to me than anyone will ever know."
Our Stories - Brad Horgan - Assistant Parts Manager
Looking for someone who embodies loyalty and passion? That person is John Andrew Assistant Parts Manager Brad Horgan. Brad has been at John Andrew 21 years and with Ford for 25 years. Brad started with John Andrew as a Parts Consultant and has worked up to his current position through dedication, hard work and delivering excellence.
Being the assistant parts manager has many roles. First and foremost, being a good support to your direct line manager. The role provides a lot of direct support to staff with all their questions, challenges and needs. The role also includes stock control, ordering and maintaining efficient levels and efficiently achieving purchase targets which is a balancing act at times. Understanding all aspects of the parts business and being able to fill in at any point. It offers Brad a lot of pride in being the "go to guy" for the team to help resolve any questions or challenges.
When asked what makes great customer service, Brad goes straight to knowledge and pride in the product you sell / represent. If a customer see's and feels your genuine passion and pride in the product, this builds on that relationship. Often there is a lot of emphasis put on all the 'feel good' aspect of the relationship but just as important is product knowledge and building a confidence in your customer that they get the right part first time and efficiently. Operating in a fast-paced high pressure to perform environment of sourcing and supply parts to customer, accuracy and efficacy in supply are critical elements. In an industry filled of many "jack of all trades", there a few "masters", but Brad is one of the few true masters of the parts supply industry.
Brad honours that the John Andrew name is a special one that carries a lot of history and pride and has been successful for over 100 years by the hard work and dedication of a lot of staff with skills and pride in the workplace. Brad has invested heavily in Ford and John Andrew as he knows that a team working together to deliver a first-class customer experience is what makes this dealership #1 by choice, not by chance.
The People, the history, the pride and being number one by choice, not by chance. The John Andrew name carry's a lot of history and pride and all its successes are not by good luck. The current staff and all those gone before having carried a sense of pride and skills that have made it and continue to make it NZ's number one Ford and Mazda Destination.
Outside of work Brad enjoys the opportunity to relax and recharge with shopping, domestic duties and supporting his favourite team DJR Team Penske in the V8 Supercars series all fitting the bill. Brad also enjoys small trips away with his partner Noorundeen. Brad is a self-confessed watch 'addict' with 14 in the current collection and is looking to get back into RC racing after an extended sabbatical (of 20 years). A former NZ champ and NZ representative, Brad is looking forward to a more relaxed approach this time around.