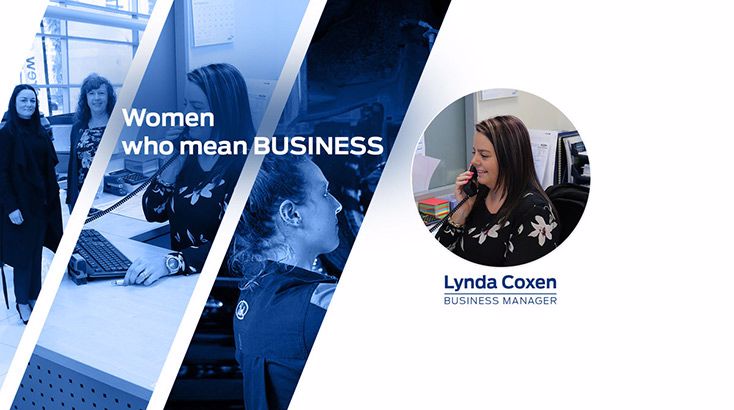 Lynda Coxen | Business Manager
Lynda Coxen is John Andrew Ford's Business Manager extraordinaire. Driving greatness everyday by offering the best customer experience to every customer looking to test drive and purchase a vehicle from John Andrew Ford. Lynda's role involves arranging for customers to fund and protect their investments with bespoke finance and insurance packages to suit customers needs. Lynda loves dealing with people, so knowing customers are walking (or driving) out of the dealership protected provides a great deal of satisfaction.
Lynda has been in the automotive industry for the last 4 years after 17 years in IT and has worked with Three other leading brands before joining the best at John Andrew Ford. Lynda's daily drive is currently the Ford Endura Titanium, when asked if she likes it? The response is "What an amazing car". All the little touches of luxury you could want in a SUV. If you see Lynda go by in the Endura she'll probably be listening to her favourite musical artist Pink.
Outside of work, keep an eye out for Lynda on the waves Jet-skiing or on in the stands at the rugby. Especially if the All Blacks are playing!
Lynda aspires to continue to work in a role that is people focused into the foreseeable future while continuing to build her ever growing list of skills and experience. Speaking of the future, a bucket list trip to the beautiful island of Bora Bora is on the radar.
Danielle Anderson | Apprentice Technician
Danielle Anderson has always spent a lot of time around cars, hanging out with car enthusiasts, and helping her father when he worked on his cars, learning how to change a tyre, check a brake pad and her way around a car motor.
Her fascination with cars, and "the individuality of each vehicle" grew. She's now completing her Certificate of Automotive Engineering, studying part time while also doing an apprenticeship with John Andrew Ford.
She hopes, once qualified, to become a master technician, "where you know all about your brand, and are a little bit of a guru", and/or a WOF technician. She loves her day job, where she's learning how to change CV joints and ball joints, how to service a vehicle and, in the process, more about the intricacies and particular characteristics of different vehicles.
Combining full time work with part time study has been ideal. "Some can do the full time course, but for people like me, who need financial support, being able to work, while studying is fantastic."
She values the classroom experience Unitec offers. "It keeps me motivated. I did not like school at all — it was too much of stuff I didn't want to learn. But doing the two classes a week has been great. It offers that reinforcement, which keeps me on track with the study."
"And I can ask a question in person, and get to the root of what I'm trying to figure out. If I was doing this at home or online, I'd open up the book and think 'I don't know what I'm supposed to be taking in!' I'm not a strong reader, but if I'm talked through something, and shown how it works, I get the gist of it pretty well."
Combining work with study is "killing two birds with one stone" she says. "By the time I finish my Unitec courses, and get qualified, I'll be out of my apprenticeship."
While aspiring mechanics could learn on the job, she believes employers are increasingly looking for qualifications to back up employee experience. "Some guys in class are in their 30s, and have been [working as a mechanic] for a few years, but now want to get the paperwork, to get a pay rise, or to be able do more with it."
The Unitec coursework and the apprenticeship complement each other. Much of the practical side of coursework can be done at work, signed off by supervisors at John Andrew Ford, which goes toward course credits. "And what the theory I learn at Unitec, I can then put into practice. It's nice when you learn something at uni, and then asked about it at work, and you know the answer. And vice versa."
Danielle had been wary of studying automotive, as she knew she'd most likely be the only girl on her course, and she is. " I had been wanting to do it, but kept putting it off, intimidated by the thought of it. But friends and family said, 'just do it. You're going to be a girl mechanic, so what? It's going to make you happy!' And it does."
Kirsty Amer | Assistant Fleet Manager
Kirsty Amer leads from the front, blazing a trail for others to follow. She brings a great amount of experience, level headedness and a touch of humour to the John Andrew Fleet Team. Kirsty helps the team to strive to reach the level of performance by setting a high standard of achievement, service and professionalism. Kirsty has been with John Andrew for over three years now starting in a Corporate Account Manager role and progressing internally to her current role as Assistant Fleet Manager.
Attracted to the automotive industry by the career prospects, Kirsty has now been in the industry for 13 years, starting in sales admin and working through retail sales to land in the current role in the Fleet team. Kirsty has seen her career move to the other side of the world and having worked with seven brands, Kirsty has finally found the best one at John Andrew Ford. She praises the team she works with every day in the Fleet department and across John Andrew Ford as the thing that sets it apart from the other dealers.
Day to day, Kirsty manages large corporate accounts and helps to lead the Fleet team. While her daily drive is currently the Ford Ranger 'Armor' Edition. When asked what makes the Armor Edition different Kirsty jumps straight to the comfortable seats, durability and the overall road presence of the Armor. When asked "what was the last song you listened to?" A quick check of the Spotify account lead to 'Anderson Paak – Come Down'.
When not helping Corporate clients with their vehicle needs, you can find Kirsty at the gym (boxing or regular), out for walks enjoying nature, or volunteering at the Auckland City Mission. During winter you're more likely to find her shredding on the snowboard at the mountain or dining out around Auckland's trendiest eateries.
When asked about the future, Kirsty's responded 'the next logical step is into a Fleet Manager's role'. When asked about future travel plans, Kirsty was torn between Japan's culture, cherry blossoms and snowboarding and Italy's food, culture and history.